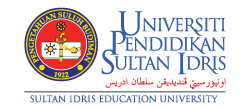 Mod  Coursework
Lecture  Hybrid
ID  MQA/FA6251 
Credit Hour  42
If you're an educational professional who are looking to progress into curriculum and instruction. This is the best Master Degree for you.
Provided by the International Islamic Univesity Malaysia (IIUM), this programme is available by distance learning and face to face, allowing you to study flexibly while balancing work and personal lifes.
Deepens your understanding of Islamic Teaching and how they relate to education. It will help you to advance your career path.
Textbook Development for Islamic Education
Mod Program secara kerja kursus (coursework).
Ijazah Sarjana diiktiraf MQA di dalam dan luar negara.
Kuliah secara hybrid (online dan bersemuka) sewaktu cuti sekolah.
Yuran pengajian adalah RM15,000 boleh dibayar 5 kali ansuran.
Terbuka kepada pemegang ijazah sarjana muda pendidikan atau
Pemegang ijazah sarjana muda (apa-apa bidang) dan mempunyai DPLI/KPLI.
CGPA tidak kurang daripada 2.57
Pengalaman dalam bidang pendidikan diperlukan sekurang-kurangnya 5 tahun bagi CGPA kurang daripada 2.75
Master of Education (School Holiday Programme) IIUM telah mula dilaksanakan sejak
tahun 2018.
Benefit
School Holidays Programme
Benefit
Why Choose Uniakademia?
Penggunaan modul mod cuti sekolah yang modular dan fleksibel dapat memudahkan guru-guru yang sedang bekerja untuk melanjutkan pelajaran di peringkat yang lebih tinggi.
School Holidays Programme